9 Ways to Find Scholarships and Grants for College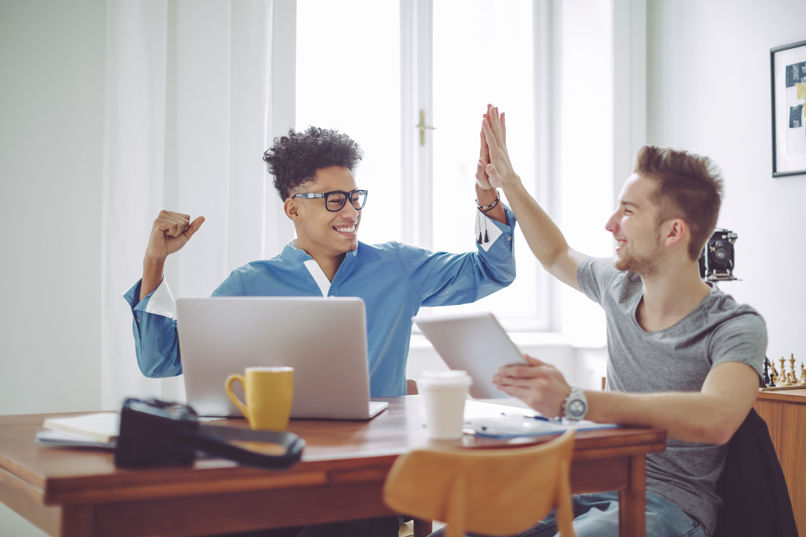 BIG Ideas:
Free money, like scholarships and grants offered by organizations, schools, and the federal government, is out there and can help you make college more affordable.
Researching scholarship databases, talking to your guidance counselor, and asking friends and family about possible opportunities can help you uncover opportunities.
Completing the FAFSA as soon as possible will help you qualify for federal grants and scholarships.


---
Where there's a will, there's a way! And if you're willing to find ways to make the cost of college more affordable, they're out there. Really.
There's free money like scholarships and grants that can be used to help you cover tuition and expenses without having to repay them. They may be offered by organizations, colleges, even the federal government.
Some scholarships are merit-based and can be based on test scores, your high school grades, athletic skills, or other talents you have. They can also be awarded based on your state of residence, race, ethnicity, or affiliation with a certain religious organization.
Grants, on the other hand, tend to be need-based and are often awarded to students and families who don't have the money to pay for college.
9 Ways to Find Scholarships and Grants
Interested in finding grants and scholarships? Here are some pointers:
1. Start researching early
National scholarship databases allow you to register and research scholarships as early as your freshman year. Scholarships have different rules and applications, so be sure to gather the information well in advance to ensure you don't miss out.
2. Know where to look for scholarships and grants
Many scholarship providers do not advertise their scholarships, so you'll need to do some investigation to find information about them. This can be a lot of work, but it could end up saving you money.
A great place to start is to read up on federal grants and aid at studentaid.gov. Filling out your FAFSA (discussed below) will be key to unlocking potential federal grants.
State and local scholarships tend to be less competitive than national scholarships, and it's a good bet your high school guidance counselor's office will have a list of scholarships or grants available to students in your area. For Texas residents, CollegeForAllTexans.com has great information about Texas grants and scholarships.
If you've already been accepted into a college, are in the process of applying to multiple colleges, or are already in college, be sure to check a school's Financial Aid website or visit the school Financial Aid office.
You can also ask friends and family or any civic organizations you or your parents are part of. They may know about scholarships offered by the companies where they work and could help you gather more information about applying.
There are also numerous websites that catalog additional scholarships that your high school or college may not mention. These sites allow you to register to help match you to scholarships you may be eligible to win based on your profile information, such as choice of degree and year of attendance. Some scholarship sites are free and some do charge a fee, so be aware of that as you're doing your research. Check out these national scholarship sites:
3. Look for scholarships offered only for your area of study
Many industries and professional organizations offer scholarships specific for their field. For example, if you're studying pre-med, theater, geology, music or engineering, there are likely numerous scholarships designed specifically for people studying in these fields.
Applying for scholarships limited to your field of study can increase your chances of an award because of the smaller number of applicants. Also, many scholarship applications ask for an application essay, so writing about a field of study you're passionate about may give you an edge.
4. Make a plan
As you come across scholarships, make a list and collect information about each one. Keep a list of deadlines and any specific requirements, such as essays that might take additional time to complete.
5. Apply early
Don't wait until the deadline to apply. Timelines for scholarships vary, but you may be able to apply for certain scholarships as early as a year before you even plan to start school. You can continue to apply for scholarships throughout your college career since some scholarships are only offered to students already attending college.
6. When in doubt, apply anyway
Don't sell yourself short! Some scholarships have grade or score standards that are required in order to be eligible. Others, however, are not as specific or are judged based on multiple criteria. Unless you know you'll be excluded based on specific criteria, go ahead and apply. You never know if you might be one of just a few applicants, or if your essay will win over the scholarship committee.
7. Crush the essay and look for references
Many organizations providing scholarships and even some grants may require you to write an essay as part of the application. Take some time to write a compelling essay free from grammatical and spelling errors. Then, ask teachers, mentors, family members, or high school counselors to review your essay for any corrections or pointers.
Your essay may be worth several thousand dollars, so make sure you nail it. The same goes for references. Those same people you would ask for help on your essay might be people you would tap as references.
8. Fill out your FAFSA
The Free Application for Federal Student Aid (FAFSA) is an application filed with the federal government that helps colleges determine what student aid you are eligible to receive. Register and complete the FAFSA as soon as it's available, which is usually October 1st of the year before the start of the term for which you're applying.
Certain Financial Aid is widely available and can be automatic if you and your family meet certain criteria but only if you fill out your FAFSA.
Federal Pell Grants, Federal Supplemental Educational Opportunity Grants, and the Teacher Education Assistance for College and Higher Education Grants are federal grants that you may qualify to receive based on your FAFSA application. Schools also use this information to determine state and institutional aid, so be sure to file the FAFSA as soon as you can, as this aid is limited and is awarded on a first-come, first-serve basis.
Once your FAFSA has been processed, you'll receive an award letter from the colleges where you've been accepted. The award letter will list any scholarships or grants that you're eligible to receive at that college.
Just because your award letter lists a scholarship or grant does not mean your job is finished. Talk to the Financial Aid office to find out what additional applications or forms you'll need to complete to receive these awards.
9. Don't just apply for your freshman year
Many scholarships are available for all four years of college. If you've gotten off to a late start and missed scholarship opportunities for your freshman year, there are still many scholarships you can receive during subsequent years.
Free money is out there. Just ask for it!
There are literally tens of thousands of different scholarships and grants awarded every year in the US. If you need some help paying for college, do your research and start applying.
10. $5,000 Murray Watson, Jr. Scholarship
Check out the $5,000 Murray Watson, Jr. Scholarship that is offered by Brazos Higher Education Foundation to talented Texas high school seniors or current college or graduate students each month – Register for this scholarship.
We can help make college more affordable
For more than 40 years, Brazos Higher Education has been helping make education possible. As a Texas non-profit, we can offer you BIG savings on a wide range of private loans for students and parents. Contact us today.