See how much you could save with a Brazos Parent Loan!
Your Parent Loan Estimate
Term

5 Years

7 Years

10 Years

15 Years

20 Years
Choose multiple terms to compare total loan cost.
APR Federal PLUS Interest Rate: 7.8%
Monthly Payment Federal PLUS: $
Total Saving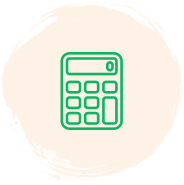 Enter Loan Amount and Terms to Help you Decide What Works Best for You – and Calculate Your Savings Compared with a Federal PLUS loan.
Total = Total Cost of the Loan
Ready to get started? It's easy!
Complete the pre-credit application.
The application is online and getting pre-approved takes just minutes! 8
Once you're approved, select from the available rates and terms that fit your budget!
Easily sign documents online and upload documents to complete the application process.