Smart Ways to Manage a Student Credit Card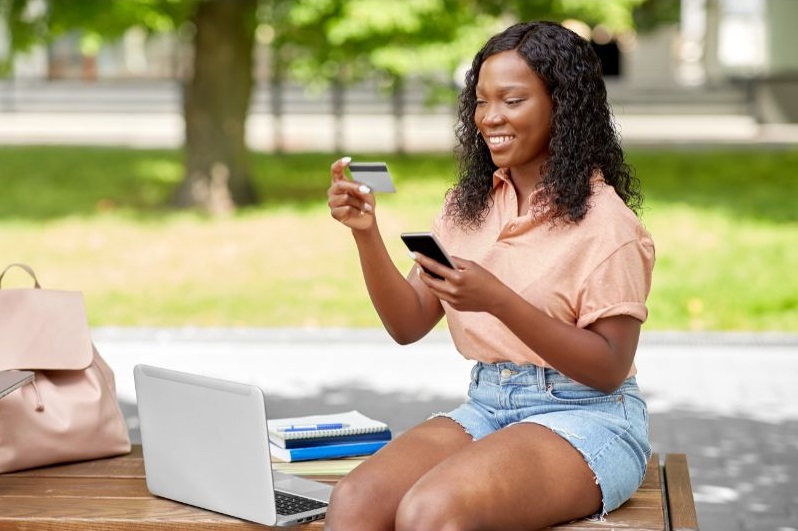 BIG Ideas:
Student credit cards can help you establish a credit history, reduce fraud when making purchases, and track your spending.
When shopping for or using a student credit card, know the interest rates and fees.
Late payments and large balances are expensive and can hurt your credit score, which could prevent you from getting approved for a loan.
---
Thinking about getting a student credit card? It's not a bad idea. A credit card can help you build your credit history, which is essential in helping you reach your life goals, like buying a car or a home. It can also make it easy for you to keep track of your spending and protect your purchases since credit cards are not linked to your bank account.
But a credit card is a big responsibility. If you don't use it wisely, you could end up hurting your budget and credit history. Here are some simple tips to help you:
Know the terms of your card. Credit card features, interest rates, and fees vary from lender to lender. So, when shopping for or using a card, know the interest rates and fees and how to earn rewards. Most importantly, know when your payments are due and the grace period you have before you get charged interest on your purchases.
Avoid late payments. Not paying your credit card bill on time can really cost you as lenders charge expensive late fees. Plus, late payments will affect your FICO score, which could reduce your chances of getting approved for loans or an apartment rental down the road.
Set up automatic payments. One way to ensure you don't miss a payment is to arrange automatic payments from your checking account. You can pay the minimum due, but it's always a good idea to pay your full balance to avoid costly interest rate payments. Also, making regular, on-time payments will help improve your credit score.
Watch your balances. When you're approved for a student credit card, you'll have a credit line, the maximum amount available for you to borrow. But just because that money is available doesn't mean you have to use it all. Using the entire balance of your credit line will lower your FICO score. Plus, carrying a balance is costly since some credit cards can charge you more than 20% in interest. Yikes!
Avoid cash advances. In addition to making purchases, you can use a credit card to get cash. Cash advances come with very high fees and interest rates, so avoid them.
Review your statements. There are many good reasons to review your credit card statements, including verifying purchases to ensure you're not a victim of fraud. Your statements can also help you track your spending and help you build that all-important budget. It'll even help you build your savings plan since you know where your money is going. In fact, many credit card companies will give you an annual statement with all your expenses categorized for easier expense tracking.
Take advantage of rewards. If you're shopping for a credit card, look for one that offers the highest level of rewards. Think about what's important to you. Rewards can be redeemed for travel, gas, merchandise, and even cash back.
Pay off high-interest balances. If you've built up high-interest credit card balances, consider transferring your balances to a lower-interest card. Often cards have promotions where they offer 0% balance transfer for a period of time. Be mindful of expiration dates on balance transfer promos and know that offers often come with a fee based on the amount you're paying off. So, be sure to shop around for the best rates and fees. To help you compare costs, check out the 2023 Best Credit Cards – NerdWallet. 2023 Best Credit Cards – NerdWallet.
Brazos is here to help you in your journey to financial independence
For more than 40 years, Brazos Higher Education has been helping college students succeed. As a Texas non-profit, we can offer you BIG savings on various student loans and helpful guidance to ensure you build the financial future you deserve. Contact us today!